Residential Swing Gate Operator GP-SW050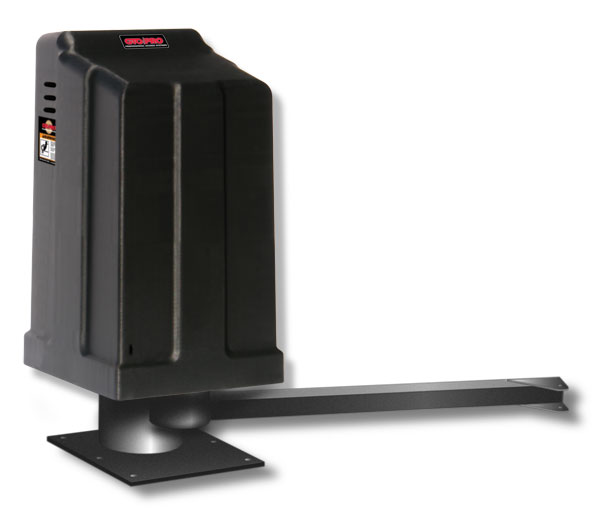 State of the Art Technology…
GTO has a full line of state of the art AC powered swing automatic gate operators. They are controlled by self diagnosing microprocessor based control boards. They feature inherent obstruction sensing, which will reverse direction and stop in either the open or close cycle, if an obstruction is encountered. This safety feature is independent of any external safety devices connected to the system, such as safety edges or photo beams.

For over twenty years we have been offering automated gate
systems designed to fit our customers needs and lifestyles.
SPECIFICATIONS:
Product Information

• AC Powered with inherent UPS (Uninterrupted Power System /
Battery Backup) gate operation and all DC powered counters /
safety devices.
• On board 12 V DC power delivers 300 Amp UPS
• 120 Vac 60 Hz built in power receptacles (1 amp rated)
• 1200:1 direct drive worm gear with totally enclosed gear reduction
• 2500 RPM, 24V brushless DC motor 1/2 HP. equivalent
• 100% solid-state motor controls circuitry
• Operating temp 5 F (-28C) to +160 F (71 C)
• Opening speed to 90 degrees from 15 seconds
• Weatherproof high density ABS, UV resistant cover
• Heavy Duty Steel Chassis

DIMENSIONS:
Height: 33"
Depth: 18"
Width: 15"

SHIPPING WEIGHT: 125 lbs.
WARRANTY: 7 Year Warranty
(RESIDENTIAL application)

CLASS OF OPERATION:
Class I, II, III, IV

SAFETY LISTINGS:
System Certified with UL325 5th Edition
safety standards, ETL listed

DUAL GATE APPLICATIONS:
The GP-SW050 is dual gate capable via
communication link wires (22
gauge multi stranded 2-wire shielded)





ELECTRICAL SPECIFICATIONS:
• GTO's advanced technology residential control board
— Digital / optical limits with fine adjustment JOG push buttons
for easy and accurate setting of limits
— 100% solid-state motor controls circuitry
— APS (Absolute Position System) tracking system
— On board 3-Push button control station
• Operation, diagnostic and safety alarms, reverse sensor system
• Visual LED and audible diagnostic indicators
• Plug-in loop detector inputs for exit, shadow and safety loops
• Smooth start / smooth stop—for long mechanical
life expectancy
• Built in power management system utilizing a high efficiency
switch-mode power supply. (AC power supply, audible and visual
low battery indicators, no loss of functionality in battery back up mode)
• Auto close adjustable 3-120 seconds delay
• Fail Safe or Fail Secure DIP switch selectable for low battery operation
• 12 Vdc, 300mA (.3 Amp), poly fuse protected auxiliary power output.
---
NOW ONLY $1569.00


The GP-SW050 Swing Gate Operator:The GP-SW050 is designed for continuous duty operation of swing gates. Max Gate; Weight 650 lbs.
(295kg), Length 16 ft. (4.9 m) Assumes gate to be free
swinging in good working condition on a level plane.
NEW LOWER PRICING!
Now offering FREE SHIPPING on all GTO Operators!

| | | | | |
| --- | --- | --- | --- | --- |
| Product Number | Description | List Price | Your Price | Buy Now |
| GP-SW050 | Residential Swing Gate Operator | | $1569.00 | |
| | Radio Receiver for remote control transmitters | | $69.60 | |
| | Transmitter for radio controls | | $19.00 | |
Guaranteed Lowest Prices ... We will meet or beat all competition
Click here for more Information on
GTO/PRO Gate Openers Accessories
Automatic gate openers are our business. Call us with further questions we are pleased to serve you. (800) 878-7829
AutomaticGateOpeners.Net
10050 Wellman Rd.
Streetsboro OH 44241
Phone: (800) 878-7829 Fax (330) 650-9004

GTO/PRO Residential Swing Gate Openers GP-SW050